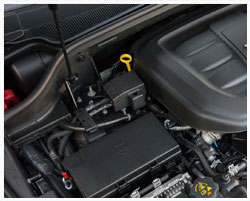 Save on Your Next Oil Change Near Me

Get your oil change coupons right here in Milbank, SD… We have fast service and factory quality from the certified technicians who know your vehicle best for great prices! Every oil change comes with a complimentary vehicle inspection to help ensure  trouble-free travel. Our oil changes are for people on the go who want it done fast and done right with oil filters and quality oil. You can print these coupons at home and bring your phone and show them on your next visit to our
Gesswein Motors Service Center
. Schedule your
oil change appointment near Aberdeen, SD
today!
Top 3 Reasons Oil Changes Near You are Important
1.) Oil Changes Allow Your Engine to Run Smoothly
Oil allows an engine's moving parts to function as they were designed to. It serves as a lubricator and a cleaner, and when oil degrades, these functions wither. Regular oil changes keep your engine running smoothly.
2.) Oil Changes Increase Gas Mileage
A smooth running engine allows it to use fuel more efficiently. Over time, this becomes extremely beneficial
3.) Oil Changes extend Your Engine's Life
Old oil that contains dirt and grime doesn't lubricate well. Without the lubrication, your engine parts will begin to experience friction against one another. And when those parts break down, the damage cannot be reversed. Upkeep is healthier on your wallet than a total repair. 
---